Latest Facility From UIDAI: Know Where Your Aadhaar Card Has Been Used
|
Latest Facility From UIDAI: Know Where Your Aadhaar Card Has Been Used
Aadhaar card or the 12-digit Unique Identity Number – issued by the UIDAI or Unique Identification Authority of India – is now to be mandatorily linked with a number of essential tasks. These include operation of bank accounts/PPF accounts, investment in small savings schemes and use of a mobile number or SIM. The UIDAI on its website uidai.gov.in has provided several online tools. These online facilities by UIDAI range from enabling Aadhaar holders to retrieve their misplaced UIDs to letting them check the status of linkage between Aadhaar and their bank accounts. One such tool enables Aadhaar holders to check their authentication history
Called 'Aadhaar Authentication History', this online tool enables Aadhaar holders to view their authentication details and access their Aadhaar Authentication History (Notifications) data, according to the UIDAI website – uidai.gov.in. The Aadhaar Authentication History tool details the method of authentication, transaction ID (created at the time of request) and error code or Aadhaar authentication failure code, among other pieces of information, according to the UIDAI website.
Five things to know about UIDAI Aadhaar Authentication
Aadhaar authentication means the process wherein Aadhaar number, along with other attributes including biometrics, are submitted to the Central Identities Data Repository (CIDR) for verification, the UIDAI website noted.
This verification takes place on the basis of information or data or documents available with the CIDR, the UIDAI adds.
UIDAI provides an online service to support this process.
Aadhaar authentication service only responds with a "yes/no" and no personal identity information is returned as part of the response, according to the UIDAI.
How to use Aadhaar Transaction History tool online via uidai.gov.in
Aadhaar holders can access the transaction history tool online via the UIDAI website.

Once on the UIDAI homepage, click on the Aadhaar Authentication History link. The tool can also be accessed through a link.
On the next page, titled 'Aadhaar Authentication History', the user may proceed by entering his or her UID (or Aadhaar number) in the given field.

Enter the security code as specified in the other field and click on 'Generate OTP'.
On the following page, titled 'Aadhaar Notification Setting', the user may specify the type of authentication to be searched, the date range and the number of records (a maximum of 50 is allowed at a time), according to the UIDAI website.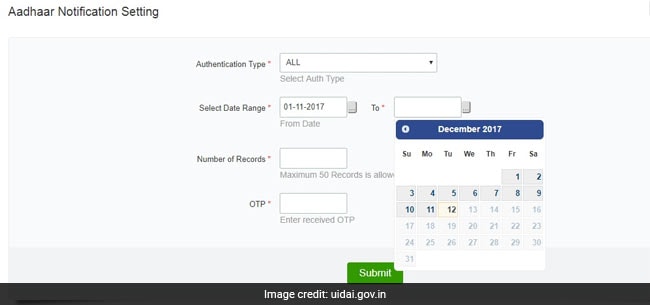 Enter the OTP or One-Time Password received on your registered mobile number and click on 'Submit' to proceed.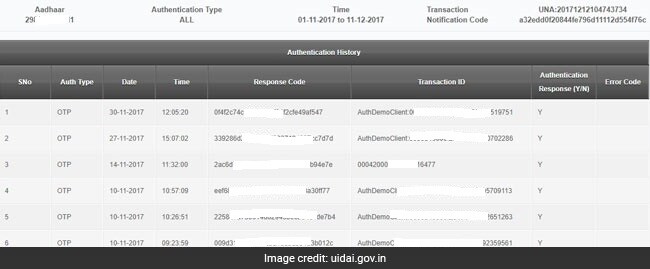 After a successful entry, the UIDAI tool displays the authentication date, time, type, ID and response, among other details, to the user.
Source by:-ndtv
Share: